I've got my second IELTS result. It's a big success, since my overall score is 8.0, having improved from 7.0 in the test taken nine weeks previously. I really want to share it with you. I won't tell you the whole long journey though, but I've read many books and done tons of exercises (nah, it's "only" 40 modules, yuck). Hence, not only I found that some of them were useful for me; I also developed my own method.
General Tips
Study grammar and improve your vocabulary. They are essential for every part of the test. It would be best for you if you do it with books specified for IELTS, and make contact with English as much as possible by reading English articles, watching English news, and so on. You can download a lot of practice test in the internet, including the listening recordings, as long as you are persistent. These cool links will help you to get started!
IELTS blog
IELTS-exam
examenglish
Tips for IELTS Reading
DON'T SKIM. I know that many people out there advise you to skim and scan the texts because you won't have enough time for careful reading. In fact, I read my texts in moderate speed, and I got 9.0 (between one mistake and none at all). I'll tell you how.
In my first test, I skimmed and scanned the texts, and then I confused, panic and lost my direction. Worst of all, in the last desperate few minutes, I still have four questions waiting to be read. My score was 7.0 back then (it's good, I know, but it's not satisfying for my intended universities).
Now, this is what I did in my second test—yes, the wonderful one (big thanks to my friend
Andy
who reminded me not to skim the text, he's a strong reader himself). First of all, I read the title (if available), and the very first line to grab the topic of the reading text. Then I went on to the questions. Usually, there are three sets of questions in one text (let's call it SET A, SET B, and SET C). I didn't have to memorize them, but I did try to know what they were about—choosing headings/opinions, describing a process/event, labeling an equipment, etc. This step cost me not more than 2 minutes.
At this point, I went back to the text, and start reading it. As soon as I found that the first paragraph contained information I need to answer questions in SET B, I made my answers and gave a bold underline and a number (of which the line provided its answer). In other words, when I was reading the first two paragraphs, I was also answering questions in SET B. As I arrived in the third paragraph, I figured out that they belonged to questions in SET A. I did what I had done with the previous paragraphs, and then repeated it for the final ones. After copying these answers to the answer sheet, I repeated the whole process in the next two texts. Each text only took me 15-18 minutes.
Well, don't forget to GIVE NUMBER MARK in every line contains information for each question. The last free 10-15 minutes provided you with a chance to reconsider your answers (or to look for them if you decided to leave them for this final inning). These marks will save you a great deal of time because you don't have to look around for this information again. If you aim for a perfect score in reading, DON'T GUESS. Make sure that you find every line for every question, and you have to be one hundred percent certain about it.
If SET A requires information from every paragraph (such as choosing headings), don't focus on this set. You can do it by reading and answering SET B and SET C. This strategy if more efficient.
Overall, STAY CALM. Every question refers to (at least) a line in the text. Just don't give up looking for it.
Tips for IELTS
Listening
I have no special method here. What I will tell you is available in the books I read. The key is STAY FOCUS and STAY AHEAD. Read the questions before you hear the recordings, and MAKE GUESSES. Don't lose your concentration, check your answers carefully when removing them to the answer sheet, and you'll be just fine. If you want to achieve a very high score in listening, consult the answer keys of previous tests to learn how to avoid small mistakes (spellings, parts of speech, capital letters, etc).
Tips for IELTS
Writing
Make no grammatical mistake, use a wide range of sentence structures, and avoid using the same words (the examiners love synonyms, but you have to pick them appropriately). Practice makes perfect and you would do better if you had read articles relevant to topics regularly appear in IELTS tests (humanity, lifestyle, transportation, poverty, environment, health, education, etc) because you will have more ideas to be organized in your writing. Asking someone with advanced writing skill to check your practice sheets is recommended as well.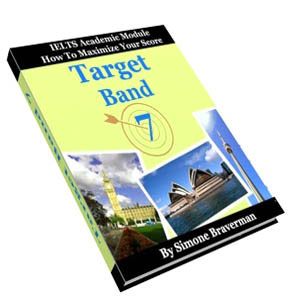 Tips for IELTS
Speaking
I thought my speaking performance in the second test was worse than in the first one, but thank God I was wrong. After a brief contemplation, I suspect it's because I spoke more FLUENTLY and CLEARLY with no pause, especially in the second part (the two minutes monologue). Remember, the examiners will not ask you to tell the truth. You can tell them anything as long as it is logical and grammatically correct. Just be creative with your stories!
In the second test, I only used four basic tenses, one or two passive voices, and some difficult words (
to behave, to cooperate, childish, similar
…—See? They are not even that difficult). Well, I also played with my intonation a little to convey what I really meant. Later I found out that my speaking score is 7.5, despite the fact that I never went abroad and have no native speaking partner (speaking English with your friends, though they don't speak well in this language, will help you much). Just be confident and be careful. Surely, if you need a higher score than mine, speak with more complex structures and sophisticated vocabulary.
Further Tips
Please let me know what you want to know (or what you have already known in addition to my tips) by leaving comments below. I'll try my best to answer them. Good luck!