I'm so glad that Motion FM (97,50) is playing boyband tracks during this whole January. Yaaaay! Despite how melancholic they were, I loved them. Listening to their songs really bring back my childhood memories. Here I provide you with some of my favorites.
They are my all-time beloved boyband. I still listen to their songs frequently. My first encounter with their sons was accidental. I bought a VCD of the Little Mermaid, but the first disc comprise the songs of Backstreet Boys and Michael Learns to Rock. My brother liked the latter, and of course I loved the earlier. I can say that I grew up with the Backstreet Boys, and I'm glad to find that they still exist though their oldest member has resigned. My Favorite Song: 10.000 Promises (accapella version).
I wasn't a big fan of theirs, but I admit that they did have terrific songs and quality. However, they didn't last long. My Favorite Song: If You Come Back.
Westlife

I bought the first version of their first album, but then the marketing team went wildly and released two or three other versions. That's crazy as well as the whole buzz about them. At that time, you can ask a girl, "Do you like Westlife?" as if asking whether they have a Twitter account. I think they are still exist, but almos unheard. My Favorite Song: Flying Without Wings.
Boyzone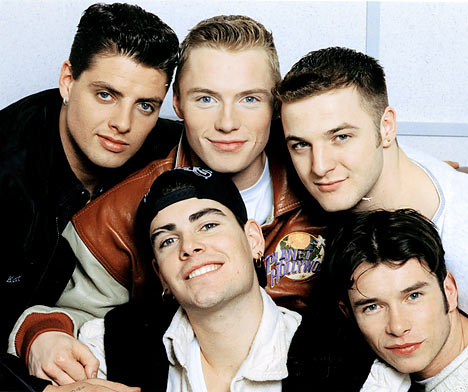 This was Westlife's big brother as they were nurtured by the very same manager. They were not cool at all, but I like some of their songs. My Favorite Song: Love Me For A Reason.
They were not boyband since they played musical instruments. However, many people refered them as one because they are young and cute. They broke up as soon as they became young adults, and later I found out that Dave Moffatt is actually a homosexual (I'm not opposing it, but ouch he broke my heart). Bob and Clint Moffatt formed a duo named Same Same with which a young Indonesian female singer had a chance to make a duet, but they only lasted for one album. My Favorite Song: Misery.